LIGHTS FOR YOUR DAILY BUSINESS
High luminous vehicle interior lighting

WHERE GOOD LIGHT IS AT HOME
Quality luminaires "Made in Germany"
Welcome to FRENSCH – your specialist for high-quality and extremely durable LED lights. We manufacture quality products that are used wherever safety challenges are particularly high, for example in buses, ships, rail vehicles or ambulances. We also always offer innovative solutions for agricultural and construction machinery as well as the entire automotive sector, which fully meet all aspects of efficient LED designs.
Every product that leaves the FRENSCH production halls is rigorously tested and thus meets the highest standards. Rely on our in-depth engineering expertise and benefit from quality lights: Made in Germany.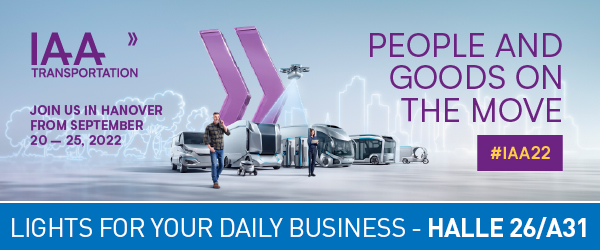 After two years, the IAA Transportation in Hanover opens its doors again. And this time FRENSCH GmbH will be there again. Visit us at the fair and be inspired by our innovations.
Make an appointment now. +49 2065-25580
Get together with the experts: FRENSCH is your partner for individual LED lighting solutions. You bring the idea; we develop the lamp that fits exactly to the requirements of your project. Like this, you get everything from a single source: from CAD design to production and delivery.
With state-of-the-art technological support, genuine craftsmanship and quality: Made in Germany. And this also in small series for you to be able to realize your project cost-effectively.
The newly developed LED surface-mounted light F-110 stands out with its flat design and its enormous light output. Its light output is 1,500 lumens for one module up to a full 4,500 lumens for three modules. It was designed for applications with the highest demands, such as in large trailers as ceiling lights or in engine compartments of ships. Thanks to its low installation height of only 12 mm and its specially designed optics, it performs its service inconspicuously. Top quality from FRENSCH: Made in Germany.
Glare-free precision optics
Plastic end cap
Invisible, waterproof plug connection
Aluminum extruded profile
Our durable quality is reliable. Especially when it matters. This is why the areas of application of our products are as diverse as our lights themselves.
In addition to its headquarters in Duisburg, FRENSCH has a worldwide network of dealers in Europe, Asia, North America and Australia. In more than 15 countries, our sales partners are active with great commitment for you and your requirements for LED lights from FRENSCH. Find one of our international experts near you.
The latest generation of FRENSCH charge controllers stands out with new controllers and further optimized software. All devices in this series are also equipped with improved programming and new, helpful additional functions. This makes them even more powerful, efficient and easy to use.