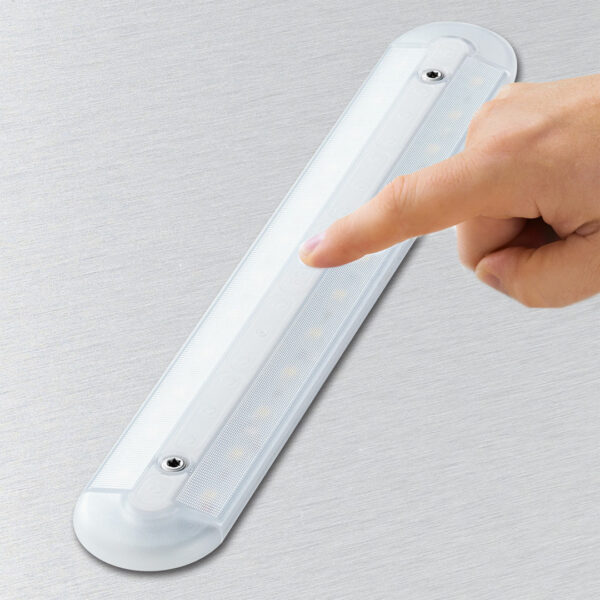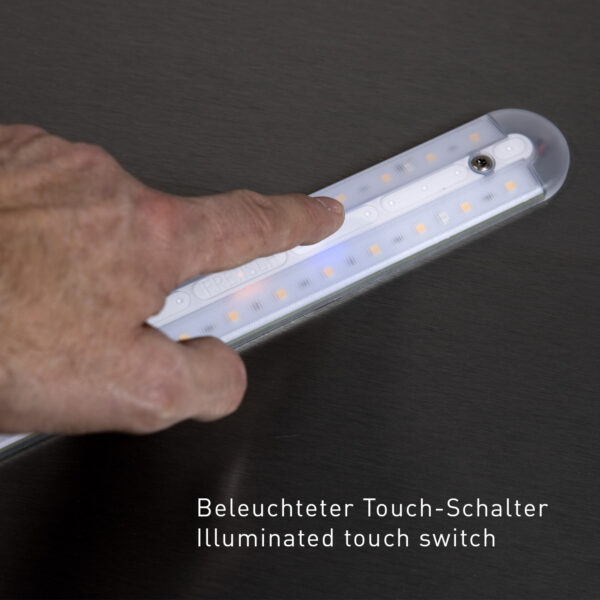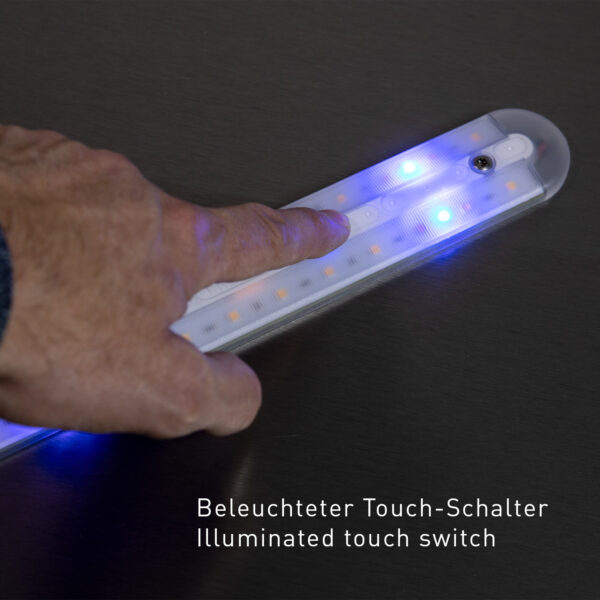 F-22 LED
The F-22 LED strip light is a state-of-the-art lighting solution designed for various applications and vehicle types. It stands out for its impressive technical features.
The F-22 LED strip light comes with a Multivoltage function, which means it is compatible with both 12-volt and 24-volt electrical systems. This versatility makes it an ideal choice for agricultural machinery, farm vehicles, delivery vehicles, motorhomes, buses, trucks, and special vehicle construction.
With an IP67 protection rating, the F-22 LED strip light is fully protected against dust and water ingress, making it suitable for use in harsh weather conditions. Its fully encapsulated housing ensures excellent impact resistance and safeguards internal components from external influences.
A remarkable feature of the F-22 strip light is the integrated night light available in Red, Green, or Blue colors. This lighting is especially useful for rescue vehicles and fire trucks as it provides subtle illumination without compromising night vision capability.
For added convenience, we offer F-22 LED strip light variants equipped with a touch sensor directly on the light. This allows users to easily control the light by simple touch activation.
The F-22 LED strip light is a high-quality and reliable lighting solution that has proven its worth in various vehicles. Its sturdy construction, high performance, and versatile applications make it an optimal choice for different vehicle lighting requirements. Choose the F-22 LED strip light for outstanding lighting results and long-lasting performance in your vehicle.
Highlights
+  Multivoltage 10 - 30 Volt
+  600 lumens of light output
+  Available in light colour cold- and warm white
+  Optional with night light and touch switch
Exclusively for commercial customers
Please use the watchlist to send us your inquiry. Please indicate whether you are a private customer or a commercial customer. Private customers can also contact our dealers directly.
Additional information
Light colour

Night light

Switch

2x Touch Sensor, no, Touch Sensor

Shape

Design

Surface-mounted lighting fixture

Power (watts)

Lumen

Protection class

CRI

Lifetime

Dimmable

Housing colour

Material housing

Connection cable

CE Certified

Installation method

Length (mm)

Width (mm)

Height (mm)

Weight (grams)

Made in Germany

Voltage