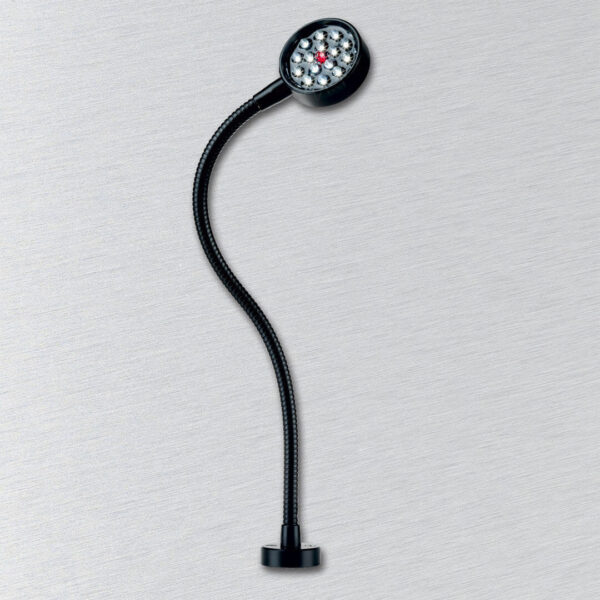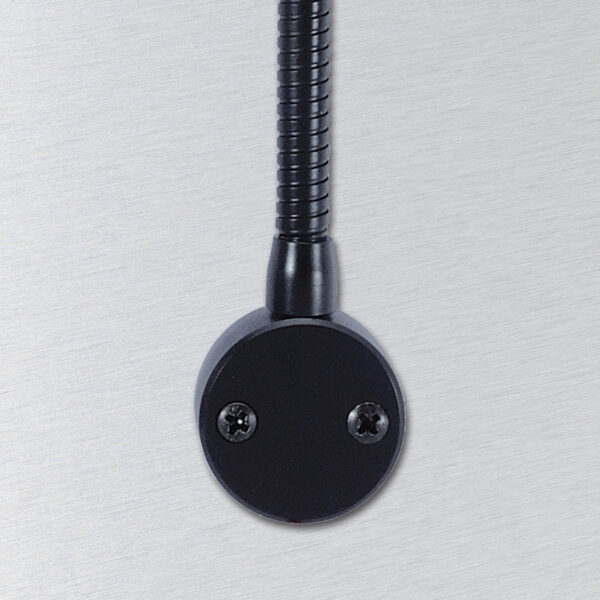 F-4 TASK LIGHT
The F-4 Task light is a gooseneck reading light equipped with integrated touch switches, providing a flexible solution for the automotive and marine sectors. It's perfectly suited for task lighting in buses, trucks, motorhomes, and train cabins. Alternatively, it serves as a classic chart-reading light on boats and yachts.
The F-4 Tasklight is controlled via an integrated touch LED located directly on the luminaire. This feature allows you to switch the light from white to red night light mode.
Operating within a voltage range of 10V – 30V (Multivoltage), it ensures reliable performance even in challenging conditions. With 75 lumens, it delivers sufficient brightness to effectively illuminate workspaces without causing glare, thanks to its approximately 35° beam angle. Available in two lengths (300 or 500 mm), it comes with a standard base for tabletop mounting or a bulkhead base for wall installation.
The F-4 Task light is exclusively available in black, providing a sleek and versatile option for a range of lighting needs.
Highlights
+  Gooseneck reading light
+  With intuitive touch LED operation
+  With red night light
+  Bright 85 lumens as front passenger lamp
+  Suitable for table (standard) and wall mounting (bulkhead)
Exclusively for commercial customers
Please use the watchlist to send us your inquiry. Please indicate whether you are a private customer or a commercial customer. Private customers can also contact our dealers directly.
Additional information
Length (mm)

Diameter (mm)

Height (mm)

Weight (grams)

Features

Bulkhead (Wandmontage), Standard (table mounting)

Design

Surface-mounted lighting fixture

Power (watts)

Lumen

Switch

Protection class

CRI

Lifetime

Dimmable

Night light

Housing colour

Material housing

CE Certified

Installation method

Made in Germany

Voltage

Light colour