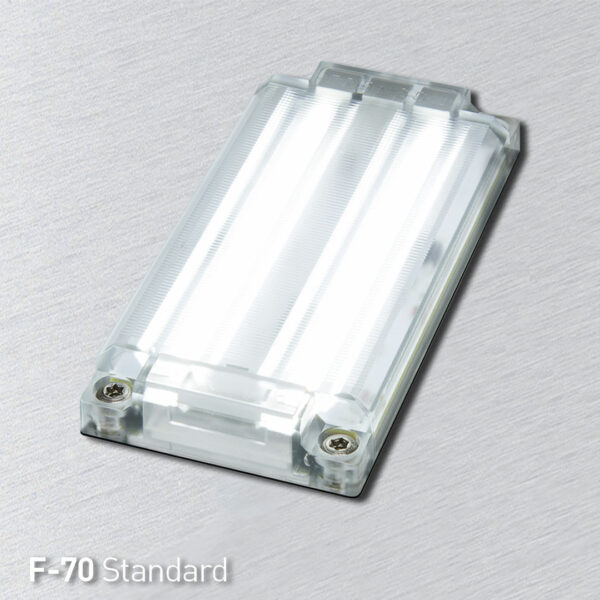 F-70 Standard
The Frensch F-70 Standard is a work light designed specifically for the demanding conditions of mobile vehicle construction. This robust light is an excellent choice for use as ceiling lighting in KEP vehicles (courier-express-package services), trailers, and refrigerated transporters, where reliable illumination is essential.
Bright Lighting in a Compact Design
Despite its compact design, the F-70 Standard generates an impressive amount of light. Its bright illumination ensures optimal visibility in various applications, significantly enhancing efficiency and safety during vehicle construction work.
Available with or without a switch
The F-70 Standard is offered in two variants: with or without a switch. This option allows you to select the light according to your individual needs and requirements. With the switch, you have direct control over the lighting.
The F-70 Standard is the ideal solution for mobile vehicle builders in need of a reliable and bright work light. Its robust construction and the option to choose between a switch or no switch make it a versatile tool in the world of vehicle construction. Invest in the F-70 Standard and streamline your work processes with a dependable light source.
Highlights
+  24 Power LEDs
+  Patented dual-volt circuit (12 + 24 V)
+  Available with magnetic switch
Exclusively for commercial customers
Please use the watchlist to send us your inquiry. Please indicate whether you are a private customer or a commercial customer. Private customers can also contact our dealers directly.
Additional information
Switch

Height (mm)

Shape

Design

Surface-mounted lighting fixture

Power (watts)

Lumen

Protection class

CRI

Lifetime

Dimmable

Night light

Housing colour

Material housing

CE Certified

Installation method

Length (mm)

Width (mm)

Made in Germany

Voltage

Light colour