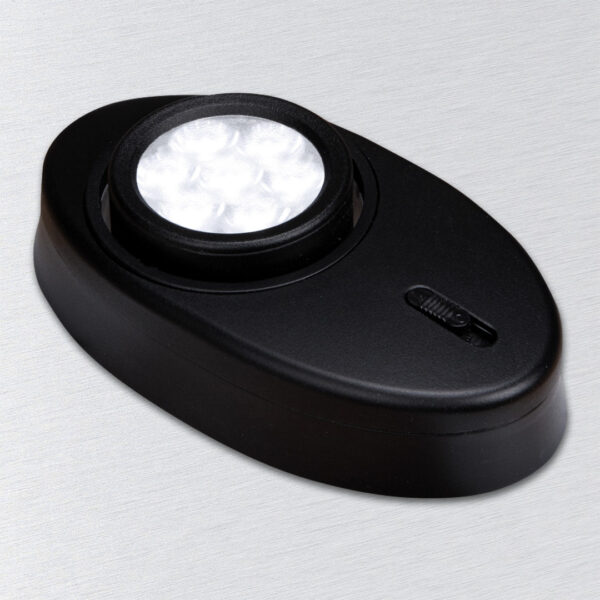 F-1 LED
The F-1 LED: The Versatile Oval Recessed Spotlight
The F-1 LED is an oval recessed spotlight with an adjustable light output, and it excels at its job: directing light precisely where you need it. The spotlight is controlled directly at the fixture with a convenient sliding switch. Optionally, it can be equipped with a surface-mounted ring, providing additional customization options.
This spotlight is the top choice for illuminating the driver and passenger areas. With various replacement options, including an optional pre-fitted plug, it offers easy installation and versatile application possibilities.
With the F-1 LED recessed spotlight, you get a reliable solution for targeted lighting in your vehicle. Whether you require a specific reading lamp for the driver's or passenger's area, this adjustable recessed spotlight ensures the right light in the right place. Fulfill your lighting requirements with the F-1 LED recessed spotlight and order it today.
Highlights
+  75 lumens available in cold white and warm white
+  Recessed rotating and swivelling spotlights
+  Housing colors black and white
+  Switch located directly on the lamp
Exclusively for commercial customers
Please use the watchlist to send us your inquiry. Please indicate whether you are a private customer or a commercial customer. Private customers can also contact our dealers directly.
Additional information
Design

Recessed lighting fixture, Surface-mounted lighting fixture

Housing colour

Light colour

Shape

Power (watts)

Lumen

Beam angle in °

Switch

Protection class

CRI

Lifetime

Dimmable

Night light

Material housing

CE Certified

Installation method

Length (mm)

Width (mm)

Mounting depth (mm)

Mounting diameter (mm)

Weight (grams)

Features

Made in Germany

Voltage